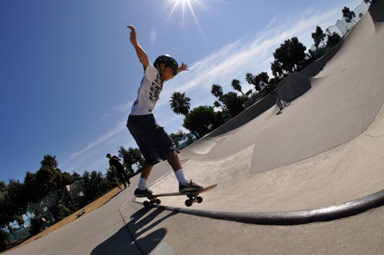 Located along the San Diego River, Robb Field Athletic Field is a great place for the entire family to enjoy the day. Complete with an Adult Fitness Club, two lighted outdoor basketball courts, eight softball fields (one lighted), five unlighted multipurpose fields, twelve lighted tennis courts, four lighted outdoor handball courts, one tennis practice wall, one sand tiny tot playground area, picnic area, permanent rugby goals, portable soccer goals, skateboard park, one meeting room, recycle bins and much more. Robb Field also offers the City's first Skateboard Park which opened in 2000.
The Robb Field Fitness Club has grown from its modest beginning of one small room with a limited amount of weights to one of the finest municipal facilities in Southern California. The complex now has four workout rooms including an outdoor area, which includes: Free weights, universals, rowing machines, treadmills, lifecycles, and a variety of other training equipment in addition to satellite televisions, showers and changing areas. Towels and Closed Toe Shoes are Required! Minimum age for members is 16 years old, if under 18 years of age a parent must sign a permission slip/liability form.
Robb Field Fitness Club 2525 Bacon St.
San Diego, CA 92107
P: (619) 531-1563
MEMBERSHIP IS OPEN TO THE PUBLIC!
To view the full photo album click on any of the above images or Click Here